The Juggling Show at a Festival.
Juggling Around in the Studio.
A Juggle to a Jig. Or a Jiiggle!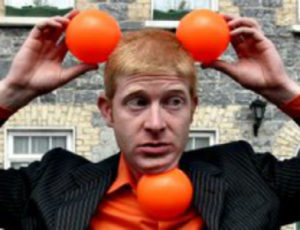 Johnny the Juggler.
Johnny the Juggler is Ireland's favourite and most entertaining juggling performer. The show is suitable for family events and festivals indoors and outdoors. A guaranteed success the comedy and juggling skill rival each other in this fast paced fantastic performance. Musical routines, lots of laughs, audience participation and a fire juggling finale makes this the most requested show available. See video and photos here of the show. Book this one early to ensure availability.